The most popular sauces in the Canaries are mojos. It's served in any restaurant to almost any dish. The best mojo sauces you can try in typical Canarian restaurants – also called «guachinches». The two sauces mojo rojo (red) and mojo verde (green) are the integral part of the Canarian cuisine.
Let's start with the origin of its name. The word mojo comes from «molho», which means sauce in Portuguese. Rojo and verde simply mean "red" and "green".
The mojo verde is made of cilantro, green peppers and/or parsley. The ingredient that should absolutely be added is garlic as it will bring a nice spicy touch.
The mojo rojo (also called mojo picón) is composed of sweet and/or chili red, normally dried. Be careful as that sauce can be quite hot! But if the peppers are soaked and the seeds are removed, the mojo will be less spicy.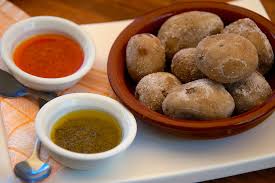 Mojos go well with many different dishes and condiments like bread, vegetables, meat, fish, seafood and the famous papas arrugadas (wrinkled potatoes). These typically Canarian potatoes are boiled in hot salty water with the skin until they get withered. The smaller papas are the tastier they are. So whatever are your preferences in food, you will always be able to mix your favourite food with one of the mojo sauces.
If you want to cook mojo, you wouldn't meet any problems as you can find the spices in every supermarket. Besides it's easy to cook it.
Recipe of mojo verde
The ingredients: garlic, cilantro, vinegar, olive oil, cumin, salt.
Grind garlic, cinlantro, cumin grains and salt into a soft paste. Then add olive oil, vinegar and a little water.
Recipe of mojo rojo
The ingredients: garlic, hot pepper, cumin, paprika, vinegar, olive oil, salt.
Grind garlic, cumin grains, peppers and salt into a soft paste. Then add olive oil, vinegar and a little water.
The shops also sell pots of mojos ready to be served. It is a nice gift to bring back from holiday so your friends got acquainted with the Canarian cuisine. Besides, mojo sauces don't expire quickly so you can keep them for rather long time.
Both mojo sauces can be prepared in different ways, hot and mild. Each restaurant has its own recipe so you should try it along with typical Canarian dishes as soon as you get to the Canary Islands!


 See also:
About the island of Tenerife and its traditions